Your First Massage: A Step by Step Guide
Your First Massage: A Step by Step Guide
Booking your first massage is definitely the first and most important step in inviting wellness into your life, but it can also come with a bit of uncertainty about what's next. In this article, we'll go over what you can expect in your first therapeutic session and what can be required of both you and your therapist in order to get the most out of this experience.
Pre Massage
Firstly, try to arrive about 15 minutes before the actual appointment time. There is no specific
dress code to follow, as long as you feel comfortable and relaxed. Where possible, leave jewelry at home and do not use heavily scented products. Those 15 minutes are to give yourself plenty of time to fill out your health history form and give your therapist time to review it before calling you in.
Please be as thorough as you can be when filling your health history out, including any diagnosed medical conditions, medications and areas of concern. This is vital information, as treatments are made specifically to the individual. Therefore, health history plays a huge role in how your therapist will approach your treatment. Rest assured that all information will be kept strictly confidential.
Consultation
Once you have filled out your health history form, your therapist will escort you to the treatment room, marking the start of your treatment time. Initial intake may take a few minutes, as your therapist will want to discuss your treatment goals with you. He or she may need to administer a physical assessment at this time in order to better serve your needs, and then he or she will go over their plan for the treatment. Communication is an essential part of treatment, so feel free to ask your therapist any questions.
Beginning your Treatment
Next, your therapist will step out of the room for a few minutes to allow you to prepare. You should undress to your comfort level. This means different things to different people. For best results, remove any clothing and remaining jewelry on the area that will be worked on. But this therapeutic session is about YOU! Therefore, the most important thing is for you to feel relaxed and comfortable. So anything you are not comfortable doing, your therapist will work around it in order to fit your needs.
Any area not currently being worked on by your therapist will remain covered by the sheets and blanket. For example, during a back massage, everything from the hips down is covered, if a leg is being massaged, only that leg is uncovered, etc.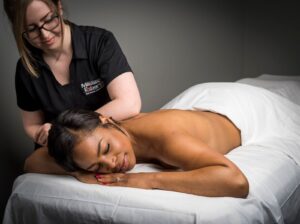 You should then make yourself comfortable on the table. The therapist should instruct you as to whether to start face up or face down. Facedown is standard, so if unsure, go for that. Get between the sheets, and rest your face in the donut-shaped face cradle provided, pulling the sheets back up to keep warm and covered.
Once your therapist returns, the massage will begin. If during the massage you are uncomfortable or find that the pressure is too much, let your therapist know. Many massage therapists will check in with you about this, but you don't need to wait to be asked. Your comfort is of utmost importance, so please do not worry about being open about how it is going. Likewise, if you have any questions during the treatment, feel free to communicate them.
Which brings us to the matter of talking during a treatment. Some people like to chat, and some like to relax and drift. Either is fine, so please do not feel obligated in either direction. Again, your comfort is very important, so go with what works best for you here.
Post Massage
Towards the end of your treatment time, your therapist will leave the room to allow you time to get up and dress. Please take your time and be careful. A massage can cause mild feelings of light-headedness. Therefore, it is suggested that you sit up slowly and wait a few seconds before getting to your feet. Make certain to gather up any jewelry that you may have removed for the treatment.
When your therapist returns, they will check in on you to see how you are feeling after the treatment and may reassess you after your treatment. Additionally, they may give you some home care instructions.  If anything is unclear, once again we encourage you to ask.
The session will conclude with your therapist escorting you back to the lobby.
Now that you have been walked through all the ins and outs of your first massage, the next step is simple. Book your first massage and let the journey begin! We, here at Massage Experts, can assure you, you won't regret it.
To book your first massage with Jenny at Massage Experts Halifax North, click here.
To book a massage therapy session at any of our other locations, click here.
Thank you for visiting and reading our blog.  Blogs and videos are written by our internal staff and we have made reasonable effort to present accurate information.  However Massage Experts Franchising ltd. and it' affiliates cannot be responsible for any of the results you experience while visiting our website.  The information presented is not a medical advice and hence should be treated as informational purposes only. Any statements or claims made on these blogs reflect the author's opinions and do not represent the view or policies of Massage Experts and its' affiliates organizations.  If you have any questions, regarding your specific condition please speak to your Registered Massage Therapist (RMT) or your family physician.